REGISTRATION FOR THE EVENT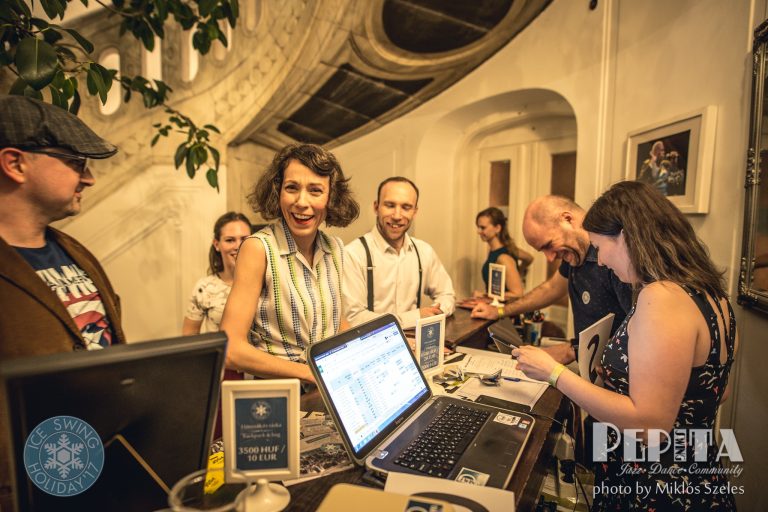 Registration ends on 20th December.
Please do the registration ASAP to ensure your place in the coolest exchange in Budapest! 
Payment for the festival must be done after receiving a confirmation email, which shouldn't take more than five days after you registered. If we don't get your payment within 10 days after receiving our confirmation, your registration will be canceled and you will need to register again.
You can pay for more than one person with one transaction; if you do so, please write down all ID numbers in the notice section of your transaction. You can find payment details in our confirmation email. If you don't receive a confirmation email within 5 days after registering, please write us an email before you take further actions.
The number of ISH passes is limited. In case the event is sold out, you will be put on a waiting list.
PASSES & PROGRAMS
Create your very own Ice Swing Holiday!
PASSES & PROGRAMS
You can choose from the Main Party Package or Daily Parties. For Daily Parties scroll down below the Main Party Package.
MAIN PARTY PACKAGE
New Year's Eve Party 31 Dec
EXTRA PARTIES & PROGRAMS
Sightseeing tour - 10 EUR
COMPETITIONS
Open Lindy Hop J&J - 10 EUR
Advanced Lindy Hop J&J - 10 EUR
START REGISTRATION
Below you can choose your Daily Parties.
DAILY PARTIES
PreParty - 28 Dec / 10 EUR
Sunday Party - 29 Dec / 30 EUR
Monday Party - 30 Dec / 40 EUR
New Year's Eve Party - 31 Dec / 60 EUR
Closing Party - 1 Jan / 10 EUR
EXTRA PROGRAMS
Sightseeing tour - 10 EUR
COMPETITIONS
Open Lindy Hop J&J - 10 EUR
Advanced Lindy Hop J&J - 10 EUR
START REGISTRATION
TERMS AND CONDITIONS OF REGISTRATION
General
By registering for Ice Swing Holiday you agree to the terms and conditions of the registration as well as that of the Ice Swing Holiday. You will find the rules on participation  HERE .
Should you not receive a confirmation letter within 5 days of your registration, please write us a message on the following address: registration@iceswingholiday.com
If possible, please register with a partner! You can register without a partner but please keep in mind that, in order to ensure the proper leader-follower ratio, you might be placed on the waiting list.
Payment and cancellation terms and conditions
If you fail to comply with the payment deadlines specified in our email, your registration will be cancelled.
Payment options: via bank transfer. We cannot accept other modes of payment. You will find further details in our registration reply mail.
Passes are negotiable onto a third person, however, should you want to cancel anything from the package provided in your pass, the registration conditions cannot be changed. Leader passes can be obtained only by leaders, follower passes can only be obtained by followers.